"Awesome Family Tree Application" Documentation by "Sharafudeen" v1.0
---
"Awesome Family Tree Application"
Thank you for purchasing my web application. If you have any questions that are beyond the scope of this help file, please feel free to email via my user page contact form here. Thanks so much!
---
Table of Contents
---
A) Prerequisites - top
To run this application in your local machine you should have followings,
Microsoft Visual Studio (2013/2015/2017)
Microsoft SQL Server / Express (2008/2010/2014)
Microsoft ASP.NET MVC
Microsoft Entity Framework
C# LINQ
---
B) Overview - top
You know our anchesters are very important to us! To keep their historical and genealogy data, we have to keep their records in secure.
Awesome Family Tree application helps to record your family members information and generate relationships for your family. By using this application, you can add, edit, delete, search & list your family members and create, edit & delete users to access this application.

Built on ASP.NET MVC 5, Microsoft SQL Server Database, LINQ, C#, Entity Framework, Model View ViewModel (MVVM) Pattern, HTML5, CSS3, D3 Charts, Bootstrap and JQuery.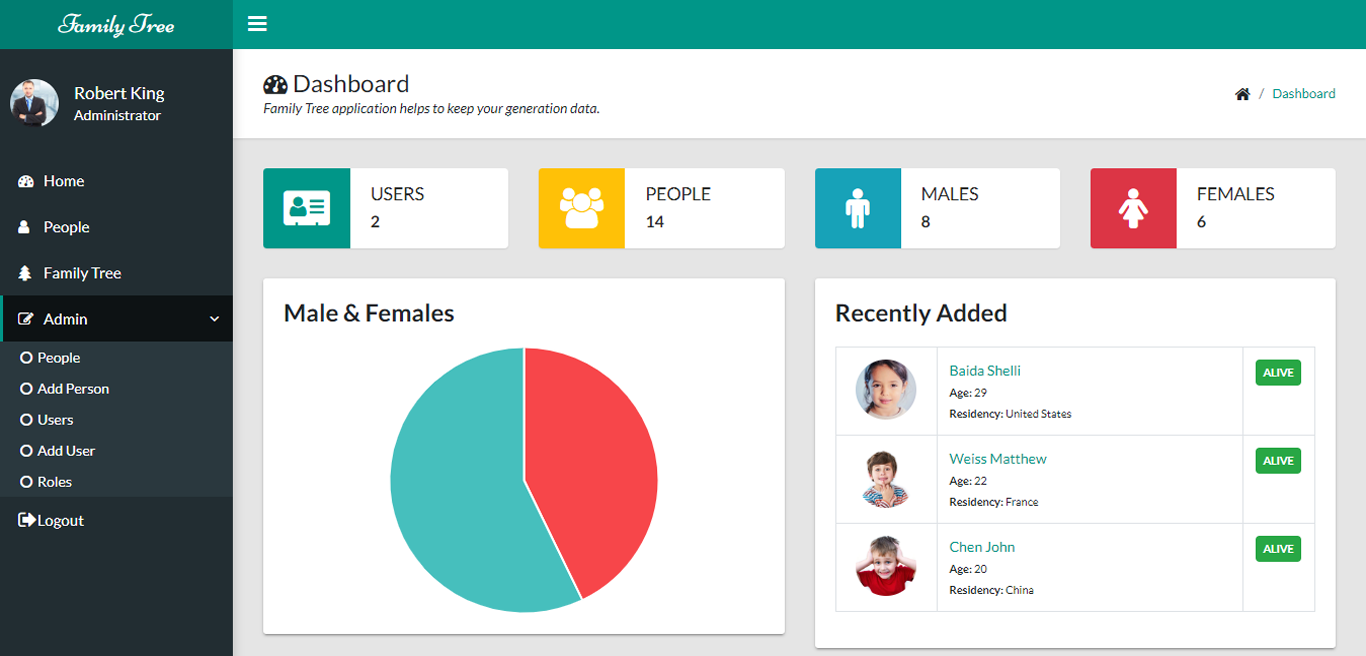 ---
C) How to Upload - top
Create Database:
You can create MSSQL database in the web server by using hosting provider db tool and execute db-script.sql script file (contains inside db-script folder).
Once FamilyTreeDB database is ready then you can get the connection string from hosting provider cpanel and configure as per Step-3.
Step-1:

Unzip Codecanyon-FamilyTreeApp folder, basically you can find 4 folders inside (db-script, documentation, source & published) and 2 files (ReadMe.txt & Credentials.txt):

Step-2:

You can upload all files inside pulished folder. Before you upload into your web server, you can change connection string in the Web.config file.

Step-3:

Open Web.config file in any text editor and change the connection string settings as per your server information.

Data Source = [YourServerIP/localhost] - Your web hosting server IP address or configure localhost.
Initial Catalog = [YourDatabaseName] - By default, database name is FamilyTreeDB.
User ID = [YourUserID] - Your database MSSQL SERVER user id.
Password = [YourPassword] - Your database MSSQL SERVER password.




Once you have done all the changes in the connection string then you can ready to upload using any FTP client such as FileZilla.
---
E) Sources and Credits - top
I've used the following charts, icons or other files as listed.
---
Once again, thank you so much for purchasing my web application. As I said at the beginning, I'd be glad to help you if you have any questions relating to this theme. No guarantees, but I'll do my best to assist. If you have a more general question relating to the themes on ThemeForest, you might consider visiting the forums and asking your question in the "Item Discussion" section.
Sharafudeen
---